Twins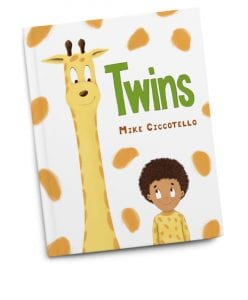 A boy and a giraffe may be unlikely twins, but they don't see it that way.
These two do everything together, from leap frogging and trick-or-treating, to dancing and even, sometimes, disagreeing. Each half of this perfect pair understands that being a twin may have a lot of ups and downs, but in the end, it's great knowing there's someone in your world who is just like you.
Farrar, Straus and Giroux (BYR)
Macmillan Children's Publishing Group
Download Activity Packet
Download Halloween Activity
Available now!
ISBN: 9780374312121
32 Pages, Ages 2-6





---
"The vignette cartoons are emotionally direct and sweet, rendering the two protagonists with eager eyes and openhearted smiles. . .Equally relevant to any child who is lucky to have a close sibling or an unrelated soulmate."
—Publishers Weekly
"The text is clear, brief, and concise, perfect for young listeners. The illustrations are happy, bright, and comical, perfectly mirroring the story line laid out in text.. . .A fun and amusing picture book celebration of twinhood, great for one-on-one or small group sharing."
—School Library Journal
Pictures from the Book Launch at River Road Books, Fair Haven, NJ.